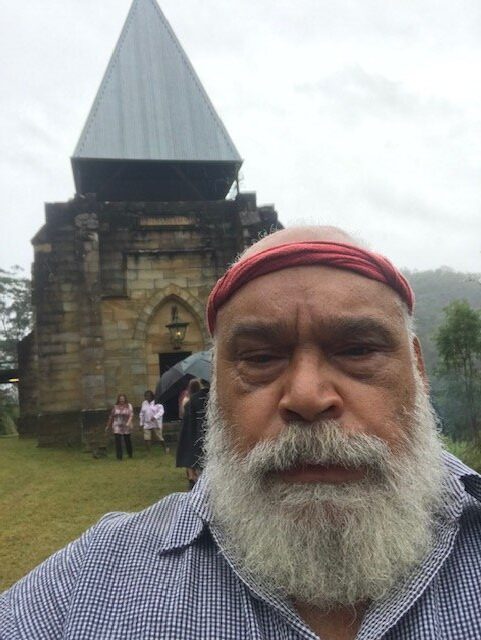 ---
Colin Lyons (Uncle Col) is a proud Wiradjuri man and Elder. Born on country in Narrandera NSW, Uncle Col grew up surrounded by a strong and determined family. 3 Brothers and 2 Sisters. In 1968 his mother moved her and all the children away to give them a chance, Life away from alcohol abuse that was rife within Aboriginal communities in small country towns back in them days. We first went to Brungle (an old non functional Aboriginal Mission) where our people continued to live on after the churches stopped managing the place, It was my mothers  2 sisters and their husbands living with their kids. (to many to count) We stayed for about a year then moved to Newtown, Redfern, then we settled in at Tregear for 9 years the elder kids including Uncle Col had completed most of their required schooling.  later in life his mother took up working for Child Protection Services to reach communities throughout NSW. His famous brother Cliff Lyons had a successful Rugby League career. His other siblings have all led prolific life of their own, My mother is proud of us all with our adult family lives and careers she feels that we all have excelled .
After working as an apprentice mechanic and labourer in his youth, Uncle Col turned his sights to working in the community. In 1987 to 1990  he worked as a for Aboriginal Community Health Centre in Redfern. As a Drug and Alcohol Councillor for 3 years in this State role, he had the opportunity to meet mob from all walks of life and he enjoys bumping into them all these years later. Soon after, he was offered a position as a School Councillor at the first Aboriginal Highschool in NSW. 'Pemulwuy' in Newtown. Then Uncle Col continued as a Youth Worker at Naamaro, Aboriginal Employment Services in Eveleigh Street Redfern. As the Aboriginal youth  Mentor, Mentoring disadvantaged young people living in the inner city area. His career as a Youth Worker saw him move to south west Sydney, where he worked for Urimbirra Aboriginal & Torres Strait Islander Corporation in Bonnyrigg where he worked for thirteen years as part of the Fairfield Community Resource Centre Team.
The last eighteen years has seen Uncle Col trade in the big smoke for the greenery of the Hawksbury River area, where he is the caretaker of Camp Wollemi in St Albans NSW, A Metropolitan Local Aboriginal Lands Council property with over 50 acres. He sees this as a spiritually healing job and a hell of a lot of mowing, He is well-known and respected by the locals. In 2008 he helped put together the High and Dry Festival at Camp Wollemi that saw 3000 people flock to the area!. Uncle Col is currently a long serving (17 Years) active Rural Fire Service Volunteer who usually drives the big red trucks and was very involved in the 2019- 20 Bush fires of Gospers Mountain, Melong Creek, Thompsons Creek and the 7 Mile fires all heading towards St Albans at the same time. Long story short he survived and he got a Commissioners Certificate for Service for 2019-2020 Unprecedented Bush Fires.
Uncle Col first became excited by blak fulla theatre when he saw a production of Bran Nue Dae at the Seymour Centre in 1991. He fell in love with the music, creativity and magic of the storytelling and saw the spirits dance on stage with the actors that night.