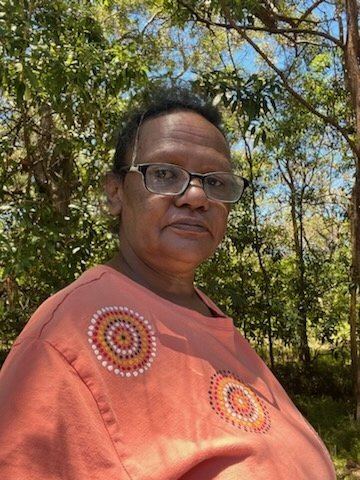 ---
Bronwyn Hoy (nee Spearim) is a traditional dancer and teacher of the Guubuun Guunigaal clan of the Murri Gabi people of the Goomeroi Nation. She is one of the few native speakers of Gamilaraay.
Bronny was born on Moree's Mehi Mission in 1965 when it was operated by St PiusX Catholic Nuns before the Freedom Riders broke the segregation at the local pool.
After the death of her father, Bronny's family looked for the chance of a better life in Sydney where she studied Aboriginal History at Tranby College, Drama at Eora TAFE and Film & TV production with Lester Bostock at AFTRS.
From here, Bronny continued to teach her culture at an array of schools and communities; seeded Tamworth's Kamilaroi Dancers, Yanay-to-Gamilaraay Corroboree; and inaugurated cultural input to Myall Creek Memorial, Moree Apex; Reconciliation Australia, Coledale Community Centre; & NorthWest TAFE.
Between 2013-2018, Bronny undertook the 3-year Repatriation of Stolen Kamilaroi Remains culminating in the reburial of 30 Ancestors near St George Q; initiated the Waterloo Creek Massacre Memorial march, advanced the "Festival of The Brolga" and first Gamilaraay teacher at Moree East PS gaining the respect of elders, teachers and students.
In 2018, Bronny formed Ngambaa Dhalaay (Mother's Tongue) as a company to deliver cultural services to clients including – Quakers Hill High, NSW OEH, Dept of Defence Recruitment, OneDoor Health, Steiner School, and Mooghalin Arts.
Recently, Bronny mentored the Gamilaraay Women's Cultural Connection workshop at Wallabadah for NorthWest Arts Inc, and performed as herself in Mitch Tambo's music video "Dreamtime Princess"
Currently, Bronny continues to live her dream as mentor to the Brolga Dance Academy  as Senior Songwoman, and chairs the First Nations Advisory Panel of Sydney Fringe Festival.
As an artist, Bronny's designs flow from her layered knowledge of her expansive homelands and its ancient dreamtime creators using both traditional and contemporary forms and palettes.
Bronny applies her colourfields onto a range of surfaces including canvasses, murals, clothing, footwear, footballs, fibre objects, and artifacts – selling through her regular stall at BlakMarkets and by private sale.